Latest Products
BE-86™ Smokeless Pistol
Pistol reloaders get better powder flow, more versatility, reduced flash and more with new BE-86, part of Alliant Powder's trusted Bullseye® line.

Features & Benefits
• Improved flow
• Contains flash suppressant
• Versatile performance

150683 BE-86– 1lb canister
150684 BE-86– 8lb canister
Reloder® 23
To achieve outstanding accuracy in the widest range of conditions, shooters need propellant that performs consistently across temperature extremes. Like its sister product, AR-Comp™, new Reloder 23 from Alliant Powder® does exactly that. Its sophisticated TZ® technology manipulates the response of the material and resists the natural tendency to generate more pressure at higher temperatures and less pressure at lower temperatures. Reloder 23 is perfect for long-range target shooters seeking performance similar to Reloder® 22 with world-class temperature stability.

Features & Benefits
• TZ technology provides exceptionally consistent velocities across temperature extremes
•Contains proprietary de-coppering additive
•Ideal for long-range target shooting
•Excellent lot-to-lot consistency
•Formulation contains no DNT or DPB
•Made in Sweden for Alliant Powder

150685 Reloder 23; 1-pound bottle
150686 Reloder 23; 8-pound canister
Reloder® 26
Achieve awesome ballistics with new Reloder 26 from Alliant Powder®. The propellant's burn speed falls between that of Reloder® 22 and Reloder® 33, and it incorporates EI® technology to produce extremely high velocities in magnum cartridges. Reloder 26 has a high bulk density that allows larger powder charges, and it provides a consistent, controlled response to temperature changes.
Features & Benefits
• EI technology produces extremely high velocities in magnum cartridges
•Contains proprietary de-coppering additive
•Controlled temperature stability
•Excellent lot-to-lot consistency
•Formulation contains no DNT or DBP
•Made in Switzerland for Alliant Powder

150687 Reloder 26; 1-pound bottle
150688 Reloder 26; 8-pound canister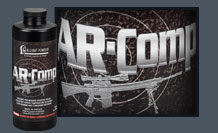 AR-Comp – Your Dedicated AR Powder
Engineering for fast cycling, high-volume semi-automatic rifles. Learn more »
Learn to Reload
Interested in learning how to reload your own ammunition? Get started now »