Latest Products
Sport Pistol™
Precision and action shooters need consistent, clean-burning propellant that lets them perform to their peak when a competition is on the line. New Alliant Powder® Sport Pistol™ delivers on these demands with extremely reliable cycling, excellent charging and case fill, and ballistics that lend themselves to a range of popular loads. Sport Pistol's low-muzzle-flash formulation is also optimized for polymer-coated bullets, whereas comparable powders can dissolve polymer coatings at the bullet base during ignition.

Features & Benefits
Clean-burning formulation
Extremely reliable cycling for competitive shooters
Optimized for polymer-coated bullets
Versatile ballistics
Excellent charging and case fill
Low muzzle flash
Made in the U.S.A.
Reloder® 16
Repeatable long-range accuracy demands propellant that behaves consistently across temperature extremes. Alliant Powder® Reloder 16, like Reloder 23 and AR Comp™, accomplishes this world-class stability using TZ® technology. It manipulates the response of the material and resists the natural tendency to generate more pressure at higher temperatures and less pressure at lower temperatures. The Reloder 16 burn rate is slightly faster than that of Reloder 17, well within the 4350 burn speed band. This makes it ideal for traditional hunting cartridges such as 30-06 Spring. and 270 Win., as well as 6.5mm target loads and tactical applications where temperature stability is required.
Features & Benefits
World-class stability across temperature extremes
Contains proprietary de-coppering additive
Excellent lot-to-lot consistency
Formulation contains no DNT or DBP
Made in Sweden for Alliant Powder
Blue MZ™
Muzzleloader hunters need propellant that ignites reliably and burns consistently even in extreme weather conditions. New Blue MZ™ from Alliant Powder® delivers on this tall order. The 50-grain equivalent pellets produce higher velocities than competing pellets at safe pressures, and ignite reliably with 209 shotshell primers. Blue MZ provides outstanding accuracy with a wide range of popular bullets, including the Federal Premium® B.O.R. Lock MZ™ System. The clean-burning formulation allows for fast, easy cleaning with water-based solvents.
Features & Benefits
48-pack of 50-grain equivalent pellets
Highest velocities at safe pressures
Provides outstanding accuracy with a wide range of projectiles
Great ignition characteristics with 209 shotshell primers
Clean-burning formulation eases cleaning with water-based cleaners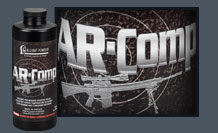 AR-Comp – Your Dedicated AR Powder
Engineering for fast cycling, high-volume semi-automatic rifles. Learn more »
Learn to Reload
Interested in learning how to reload your own ammunition? Get started now »